I am an electrician by trade, but have spent most of my working life in electronics, with a lot of experience in the Audio Visual industry. I have designed and installed sound systems in homes and in board rooms, clubs, schools, churches and many commercial installations. I have also designed and installed TV antenna distribution systems for homes and for larger premises up to gated communities with hundreds of homes all receiving their TV signal off the one antenna. I have also installed security camera systems recording up to 64 cameras.
I have always been interested in all things electronic, and have been fiddling with electronic things since I could hold a soldering iron (by the right end). I have built and sometimes designed many electronic projects over the years from simple 555 circuits through to audio "black boxes", HiFi amps and simple micro-controllers.  As for other hobbies, I have been involved in video productions including multi-camera weddings, and family video blogs. Recently I rekindled my love for still photography. I also enjoy watching all types of sport.
With my wife and family we spent 10 years working in the Democratic Republic of the Congo (then called Zaire) starting and ultimately handing over a cassette ministry. During the time in DRC I fixed a lot of electronic things for other people and taught a number of the locals some basic electronic principles.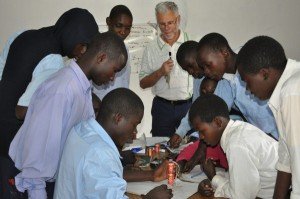 We recently visited Zambia, and Myanmar (Burma) four times, where I fixed a number of things as well as taught some basic electronics to some youth in both places. In 2013 we had a 5 month stay in south east Asia, and returned there for 6 weeks in June/July 2014, 2016 and 2017.
For over 40 years I have been involved in the technical team of CMS Summer School, held in Katoomba, NSW each January. This is a conference with 3000 adults and 1200 children attending. For the last few years I have been the Tech Team leader, leading a team of over 35 people providing the audio, video, and projection requirements of this 6 day conference.
In my local church, I oversee the technical needs including installing and maintaining all the AV equipment and continually training new operators. I have also lead training sessions in other local churches.
With this varied experience and knowledge, I am often asked for advice or solutions on technical matters. This web page is a collection of some of my common answers.
And yes, I do have grey hair – and proud of it.
To contact me, please add a comment on the bottom of the article relevant to your question or comment,
Thanks
Geoff