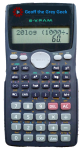 If you don't like formulas then you definitely won't like the formula for calculating voltage ratios expressed in decibels.
So, use the following calculators to get a handle on the decibels with different input and outlet levels.
These calculators also show you the theoretical values for resistors to make your own inline audio attenuator, and a calculator to show you the actual dB attenuation with any two real world resistors.
For a better understanding of what all this means, read the articles on Understanding Decibels  Part 1 and Part 2.
For those who need to know, the basic formulas used for these calculators are :

and